The Philadelphia Experiment (PEX) burning man camp and Playloop label brand have joined forces on the West coast to launch a series of events in the city of Los Angeles. The first is event is on Saturday, May 7th featuring DJ/producers Eric Jag and Justin Paul. See event details below.
PEX vs PLAYLOOP LA
:: Downtown Los Angeles, CA
Saturday May 7, 2011 :: 9pm – 5am
To attend this event you must make a pre-donation or RSVP – playlooprsvp@gmail.com
Official Family Affair After-Party
BRADEN / CAPARRO :: DJ tag team :: 16Bit / Family Affair :: LA
DAVE HUGHES :: Palette/PEX :: Dublin/LA
EVERYDAY :: PEX/Playloop :: Philly
JAMESEN RE :: DDP :: LA
JARED SANDERS :: Playloop :: LA
LUSHBUNNY :: Disorient / PEX :: LA
LEE MAYJAHS? :: PEX/Playloop :: Philly
NEIL KURLAND :: Soulmob :: Baltimore
ORAnGINA :: DJ tag team :: Chicks With Decks :: LA
PRIMAL LUXE :: LA
WISEACRE :: LOUIE and CHAN – NYC / theLIFT :: LA
% going to
NextAid
and other charities TBA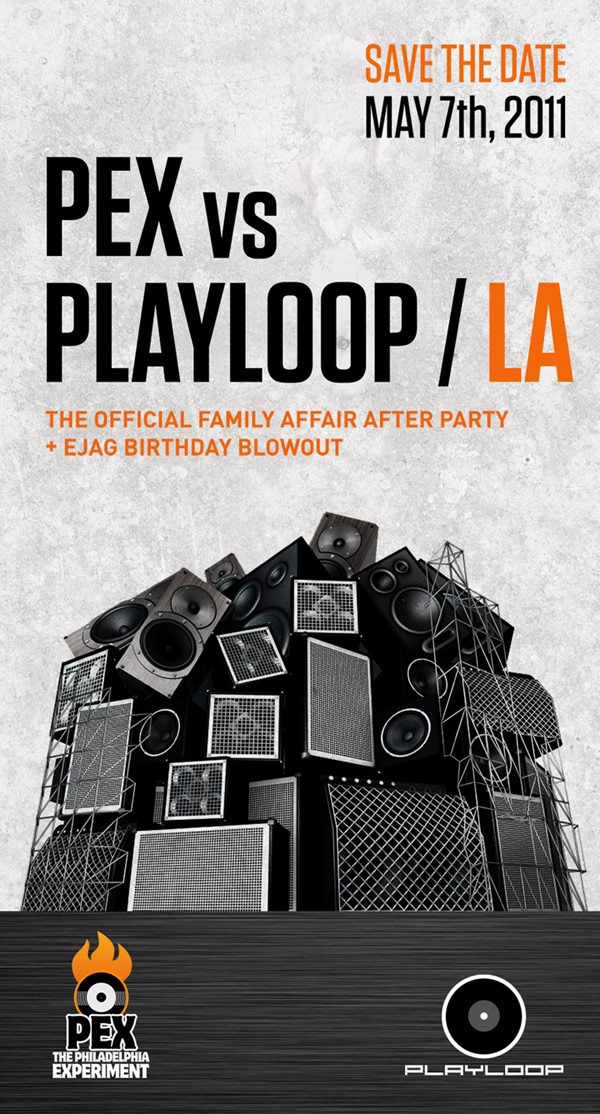 RECYCLE
See it. + Hear it. + Experience it.
Join us as we dismantle your expectations and reconstruct them into an entirely new experience. RECYCLE is a joint collaboration between a group of talented artists, innovators, futurists and organizations coming together to bring you an evening of entertainment (and interactive education) like you've never experienced before.
HEAR IT. +
Both POGO & ECLECTIC METHOD will pave new pathways with their visual and auditory mix of old and new, all supported by booming beats & bass.  Both are unique in their ways of RECYCLING conventional musical expression into something completely new.
Wishery (Disney Remix)


Crimson (Dexter Remix)

8Bit Mixtape


Robots


Supported by:

SEE IT. +
Stand back as welders, glass blowers, raw-material-manipulators twist and melt recyclables into a large live sculpture right before your eyes.  See the sparks fly as you witness trash forged into art by the skilled hands of:
STEFANO NOVELLI – http://www.spaceisland.org
ADAM MOSTOW – http://www.adammostow.com
DAVID HASKELL – coming soon
Besides the large live art installation, there will be interactive recycling experiences and pieces brought to you by other artists and our supporting partners, all who support the prevention of waste and expansion of nature.
EXPERIENCE IT. +
Bring your own cup (empty of course
to the event and receive a $1 discount on drinks at the bar.  Receive the same discount if you just keep the cup you received your first drink in.  Although we are a PLASTIC-FREE event, there is no reason to waste the corn cups and there is all the reason to practice conservation.  We gladly bring you the:
BRING IT BACK BAR
Besides the bar, there will be ideas and goods scattered around the event for your consumption and we hope that a fun, seamless, uninterrupted experience will help guide the message into your homes and hearts.
Stay tuned for updates, giveaways and fun recycling facts and ideas
Saturday, March 12th 2011
LOT 613  - Imperial St. Los Angeles, CA 90021
9pm to 2am – 21+